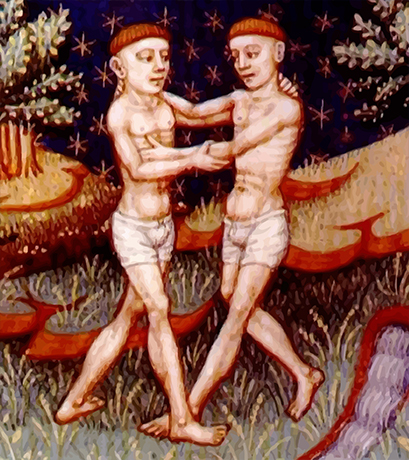 Sign And Symbols
Zodiac symbol     –    Twins
Duration               –    May 21 – June 21 (2018)
Constellation       –    Gemini
Zodiac element   –    Air
Zodiac quality     –    Mutable
Sign ruler             –    Mercury
Detriment            –    Jupiter
Exaltation            –    Ceres, North node
Fall                        –    Neptune, South node
Welcome to bustling, beautiful 2018, Gemini! You'll have the chance to connect with more people and engage in more new situations as never before.
It's also a year for you to start many new projects and begin exploring new avenues in life. On the day before the sun enters Gemini, Venus enters charming, popular Cancer. Mars has just entered big-thinking, clear-headed Aquarius, and Uranus has just entered methodical, materialistic Taurus. Expect 2018 to bring you improvements and some changes of direction in your social life and career. You could step into a new world.
All three Mercury retrogrades this year occur in fire signs. Life should barely slow down at all. Promote yourself a bit less in the spring, and refine your presentation. Take fewer risks in the summer, and have more fun. In late autumn, ponder some recent big lessons and apply them more wisely.
Just after Venus turns direct in November, your planet Mercury conjoins generous Jupiter. Your love life need not slow down or lose focus. What a sizzling year!Stronger, Smarter, Better, Hotter… your 2018 Horoscope will guide you where you've never been!
Astrologers believe Geminis have a volatile temperament, that their strength however is their versatility, and that their versatility allows them to learn a little about everything and develop skills in many areas. Geminis are considered to hold mysteriously unique artistic and creative abilities unlike other signs. Often considered to be very intelligent individuals, they have a wide appreciation for the arts, philosophy, history and the natural sciences. They do not like boring people or routine procedures and therefore struggle to deal with authoritative figures. They are enlightened to talk about any subject which they find interesting and where they can stimulate their naturally intellectual personalities. Geminis are noted to be drastic and hasty yet very responsible and disciplined. They are considered to be the most misunderstood of all signs due to their dual personality expressed by the twins of their sign. Because of this, don't be surprised to often find Geminis in different moods and therefore mood swings can occur often for Geminis because of their high degree of mental processing and thinking. This makes them quite philosophical people. Geminis are sensitive as well but use their high intelligence to counter anything that upsets them. Geminis usually get along very well with Leos, Aries and Sagittariuses. They do not see eye to eye with Pisces, Cancers, Virgos and Scorpios. Gemini are best suited for people of Aquarius and Libra signs but also go well with Capricorns, and Taurus signs.